the new love of my life, Davis Jeffrey Coose.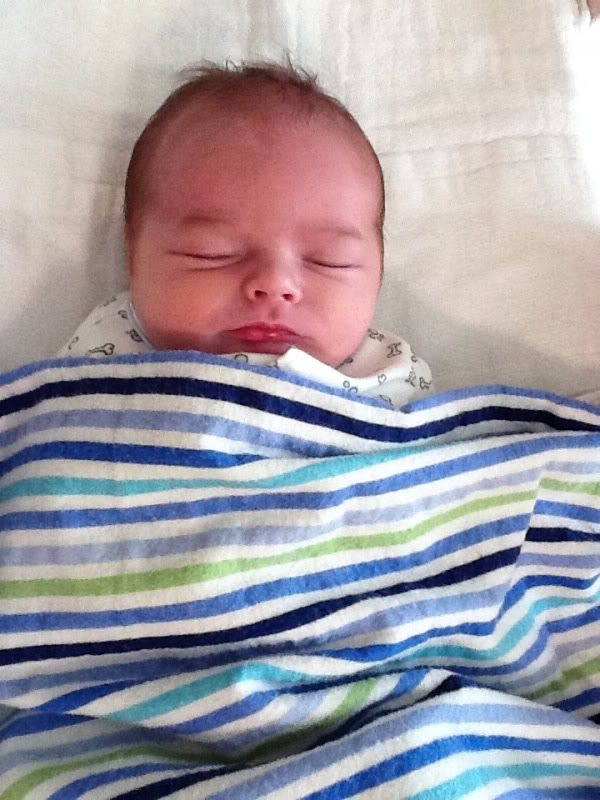 Hey was born 9/15 weighing in at 7.9 and 20 inches. We had a bit of a hard delivery, so if you don't care to hear the story, feel free to skip the next few paragraphs.
I went in on Thurs morning for an induction, because I was starting to dilate, and was done waiting to meet this sweet little boy. Everything went great, I got all checked in and they started pitocin, and the contractions followed soon after. I lasted about two hours, and by 10 AM I was ready for my epidural. At this point, I was about 3 cm and 80% effaced, so moving in the right direction.
They came in to do the epidural, and it didn't go so well. She kept hitting either bone or nerves every time she tried to thread the cathater. Talk about pain. After about 20 min, she gave me a bit of a break, and then was able to get it in. Yay for pain relief!
I felt good for about 20 min, then I started feeling dizzy, and passed out because my blood pressure dropped. When I cam to, there were probably 15 people in my room trying to get me situated. They got my bp back to a normal range, but sweet boy's heart rate was down. They tried everything, rolling me from side to side, oxygen, but his heart rate still wouldn't come up. I remember during all the chaos, looking sober and wondering why in the world Matt was putting on scrubs? I had no idea that a c-section might be happening soon.
Within maybe 5 minutes, my OB decided that we were headed to the ER. They topped off my epi, and started prepping me. When they started I felt fine, and there was no pain. That changed as soon as she hit my uterus, and they had to put me completely under. The next thing I know, I look over and my little sweetness was in the warmer, screaming his head off.
After all that, we are just thrilled to pieces with him. I can't believe how blessed we are. I never anticipated having to worry about healing from a c-section, but it's going really well. I'm just taking it easy, staying in bed snuggled with my boy for the next two weeks, which is right where I want to be.
Thanks for reading my novel, I am so in love with this boy!